Contemporary Ceramic Homewares Handmade In Australia
Eun Ceramics is a Melbourne based pottery studio by a Korean Ceramicist, Jessica Eun Kyoung Choi.
We offer a collection of sculptural vases, tablewares including cups, mugs, decorative bowls, trinket dishes and other unique homewares and objects. Eun Ceramics focuses on emphasizing the inherent beauty of the natural materials to create truly unique, one of a kind pieces. Our minimalistic and contemporary ceramics are both decorative and functional, and make great addition to any space and perfect as gifts. In addition to Eun Ceramics' distinctive style and aesthetics, her contemporary designs aim to bring a sense of mindfulness and connection to be enjoyed everyday.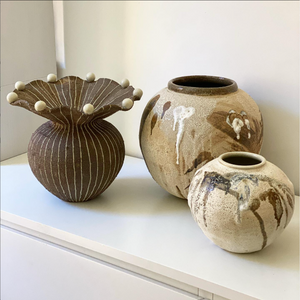 New Collection : Time Capsule
Time Capsule Collection is a series of modern interpretations of traditional ceramic Korean moon jars. Moon jar is an ancient form of imperial ware which dates back to Joseon Dynasty (1392 - 1910), commonly used to store precious goods or as gifts for important guests. Each piece from collection is numbered and dated in Korean date format as a tribute to its origin. New work will be slowly added throughout the year allowing this contemporary collection to evolve and grow over time, showcasing the artistic journey and growth of Eun Ceramics. Each vase is handmade, unique and carefully crafted, incorporating new techniques and mediums while still maintaining its traditional elements.